Now you have served your notice period and the last day at work has approached. Keep these points in mind while drafting your last day email
1) Plan for different emails for different groups. Let's take the example, that you joined i2 Technologies as an intern from NIT Trichy, and then stayed there for 4-5 years you can draft a casual mail for your classmates who eventually became your colleagues. There could be other set of email for your project team.
2) You can highlight the name of your team members who had been with you through the ups and downs of your career. Highlight the team spirit which you would have shared during your tenure.
3)Do not get over emotional. You are onto only changing your and not relocating to the moon! It's OK to change a job. Earlier people used to retire from their first company but these days people change their job every 3 years on an average. After reading your last day adieu email, you colleagues should not think "Arrey Pagla, Rulayega Kya" (Hey Buddy, will you make me cry?). So maintain a sober tone
4) When you are writing an email, keep your personal email id in the "To" and your colleagues name in "BCC" so that when they reply to all, you will get those emails. In outlook you have an option to send reply to another email id. While drafting an email, go to options and click "Direct Replies to" Give your personal emai id in that. See the image below. The option to direct replies is highlighted in red.
5) Make Sure that you give correct contact information, your phone number, social network profile etc. Be prompt to accept invitation when people try to keep in touch. Otherwise it will give a wrong impression to your ex-colleagues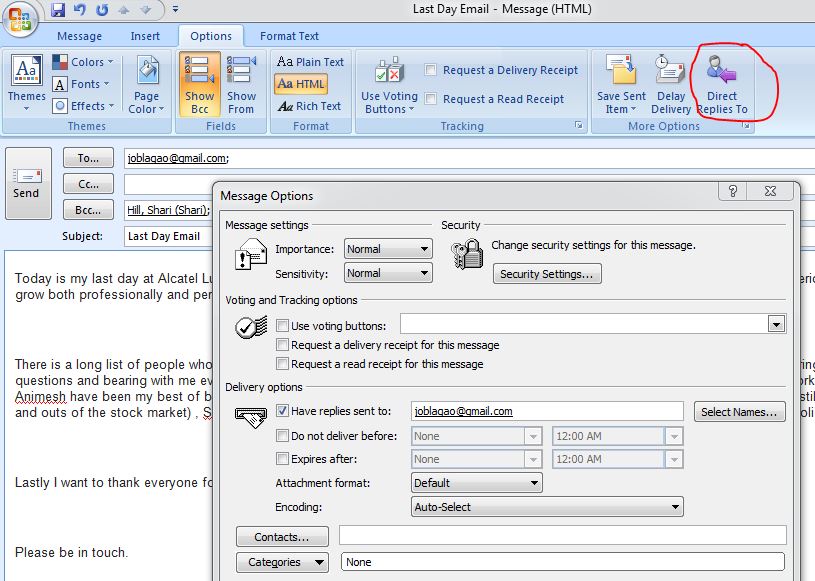 See a Sample Email Below:
Hi All,
Today is my last day at Alcatel Lucent. It had been a roller coaster ride for me for the past 3 years. I have learnt enormously in this period which has helped me grow both professionally and personally.
There is a long list of people whom I cannot forget and will be my friends forever. Dhananjay sir has been my teacher in ALU, answering patiently all my stupid questions and bearing with me every time. Eli, has been a constant motivator and provided me with great opportunities and made working here fun. Vinayak and Animesh have been my best of buddies. I shared amazing time with Deepak,Rahul and my complete cricket team. Soumen sir(you still need to teach me the ins and outs of the stock market) , Srihari sir and Mallikarjun sir have been great during this time for being friends and spotting all the foolish mistakes in my code.
Lastly I want to thank everyone for making life@ALU , worth remembering
Please be in touch.
See the link below to read better and formal last day email samples