Accenture has branded its employee referral job campaign as Talent Scout. Accenture encourages employee referral jobs. First get referred by an employee. Then try to appear for the walk-in as it is the best way to get into Accenture. When they open a RR (Recruitment Request), the HR opens it for all location so that they can get resumes from all the metro cities. The internal approval may take around a week. Once the RR is flagged for external hiring, an employee of Accenture will be able to upload your profile in the portal.
Read More: Salary and Payslip of Accenture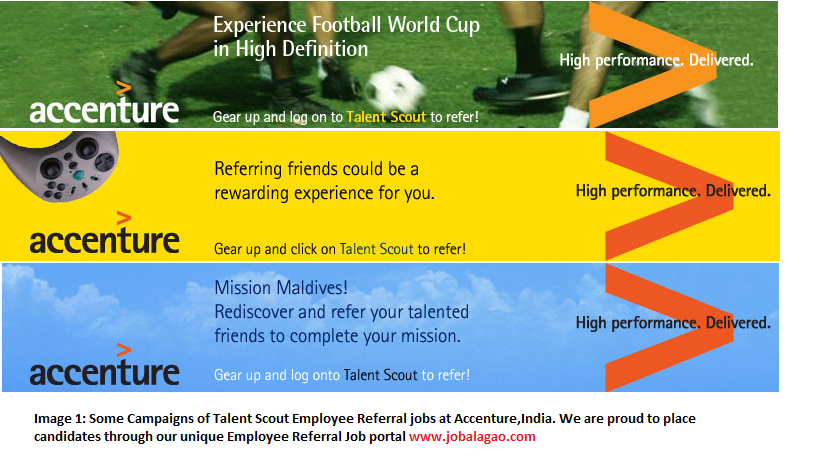 Make sure that you provide your Address, Date of Birth and location preference to the referrer and also upload it in the resume. The employee needs to refer through this employeereferrals.accenture.com. The referral process is slightly cumbersome. First the employee has to enter basic details of the candidate like Name, DOB, and Location preference and contact number (Note contact number is to be added without zero) next, the employee will have to enter all the details including previous employment and education details.
Take a peek at Cognizant's payslip and Salary structure
Once the employee successfully refers, you will get a Candidate ID (CID number). This is a tracking number. The candidate and referrer will get automated email as given below:
From: India.Recruiting@accenture.com [mailto:India.Recruiting@accenture.com]
Sent: Friday, July 14, 2014 12:44 PM
To: ABC
Subject: Thank you for your referral to Accenture Recruiting
Reference CID: C3370082
Dear ABC,
Thank you for referring Raj Singh for the requirements at Accenture Delivery Centers for Technology in India.
We appreciate your continued support to fulfill our job opportunities.
Warm Regards,
Accenture Recruitment Team
Whenever an interview is scheduled, the referrer will get an automated email that interview is scheduled or the candidate is rejected. If you have already applied in the last one year, then you will not be able to upload again as you will get a duplicate message as given below:
"This resume are already exist in Database, may referred by other source"
If the referral is a success, you will get a message as given below:
Status of the candidatewill be shown "Onboard".
The approximate referral amount is given below:
Read: Accenture India Holiday List 2015
Sample Onboard Reward Table:
| | | |
| --- | --- | --- |
| Levels | Regular Referral Bonus | Referral bonus for - Niche skills set |
| Level 8 & 9 | INR 25000 | INR 35000 |
| Level 10 & 11 | INR 15000 | INR 25000 |
| Level 12 | INR 4000 | INR 9000 |
Normally, the first technical round will be telephonic. There could be one more managerial round. The final round will be face to face round, so you will need to go Accenture's office for the same. However if you do not have an Accenture's office in your current city, then the HR will ask you to come to a nearby City. For example, a candidate from Ranchi (Jharkhand) was selected in the first round. He was asked to go to Gurgaon office for the Second round
Read: JDA i2 ABPP Interview Questions
The numbers of openings are approx. 3 times the requirement. So if they need 5 Java resources, they will have the opening for 15 Java resources. If they shortlist 10 in the final round, they may conduct final face-to-face round in for 8-9 candidates. Then they will roll out the offer to only 5. The other 3-4 will be a backup.
Once the candidate joins the company, the employee gets the referral amount after a month when the candidate joins. For example, if the candidate joins on the 29th of February 2014, the referral amount will be credited to the referrer's account in the Salary of March 2014. However if the candidate leaves the company within six months of joining then the referral amount will be recovered from the payroll.
They also come up with several campaigns for Employee Referral. See a sample list of gifts and vouchers distributed to Employees.
Here's a glimpse of the prizes you can win
| | | |
| --- | --- | --- |
| Eligibility | Number of Winners | |
| Top 12 Referrers at PSI Stage | 12 | Gift voucher from Adidas for Jerseys |
| Maximum number of Women Referrals @ PSI clear | 12 | Wrist ipods |
| Top 5 Referrers at PFI stage | 5 | Wrist ipods+Voucher for Jerseys |
| 2 Onboard | 12 | Footballs or Adidas Girls Jacket +Gym bag + Running shoes |
| Maximum number of successful on boards (Minimum = 3) | 1 | SONY BRAVIA 55 INCH TV |
Note Accenture also provides diversity, so female candidates are also welcome.There is an additional referral amount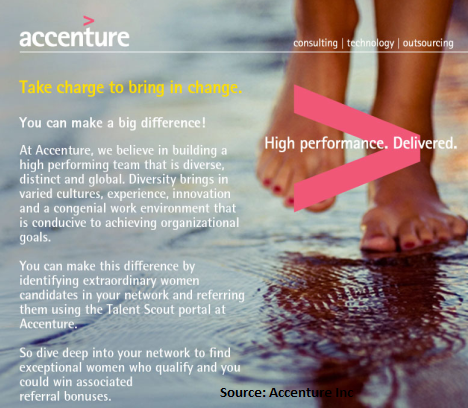 Read: Accenture careers and interview through Employee Referral