https://www.linkedin.com/company/job-lagao
Sample 1 (If you started your career in this organization)
I am writing this email to bid you all a final goodbye as I leave the organization today. It has been great working with you all but it is time to move on to undertake newer opportunities. You all have been very supportive and helped me learn a lot.
It had been my first job and would always hold a special position in my heart and so would each one of you. I am sure that the knowledge and experience gained during my tenure at this office would prove to be helpful throughout my professional career.
Wishing you all the best for your future endeavors.
Related Story: Last Day email in Office format – Adieu!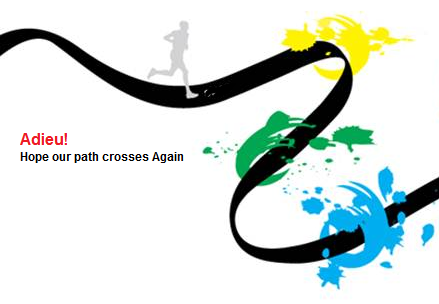 Read More: Last working day mail sample
Sample 2:
Today is my last working day in TCS and I would like to thank you all for your support during my 5 years of association with this esteemed organization.
It was a great year for me both at personal and professional level. I had a unique learning and working experience which I cannot forget and it would help me in my future endeavors.
I am relocating back to India and looking forward for new challenges in my next role.
I can be reached at below mentioned email and phone number.
I bid adieu and wish each and every one of you the very best in your future endeavors! God bless.
Please do keep in touch.
You can reach me through:
Mobile: 8867269342

Email: joblagao@gmail.com
Linkedin : https:// https://www.linkedin.com/company/job-lagao

Read More Last Day emails: http://www.joblagao.com/voice/tags/adieu.aspx