Cognizant promotes the employee referral process. It sends lot of email to its employees. InQ1 and Q2 of 2014, it is aggressively promoting BPO, Process Associate jobs. It is also hiring lot of people from Pharmaceutical background. So, there is an opportunity for people who have done any diploma in Pharma or M.Sc. in any of the life sciences.
Related Article: Accenture careers and interview through Employee Referral
Cognizant promotes it as BAY (Bring another you) and all the employees get BAY email flyer Every weekend walk-ins are conducted. Sample Email:
From: B.A.Y - Bring Another You (Cognizant)
Sent: Monday, July 14, 2014 4:13 AM
To: Cognizant ALL (INDIA)
Subject: TAG presents Campaign for TO/CPS/T&T Opportunities in ITIS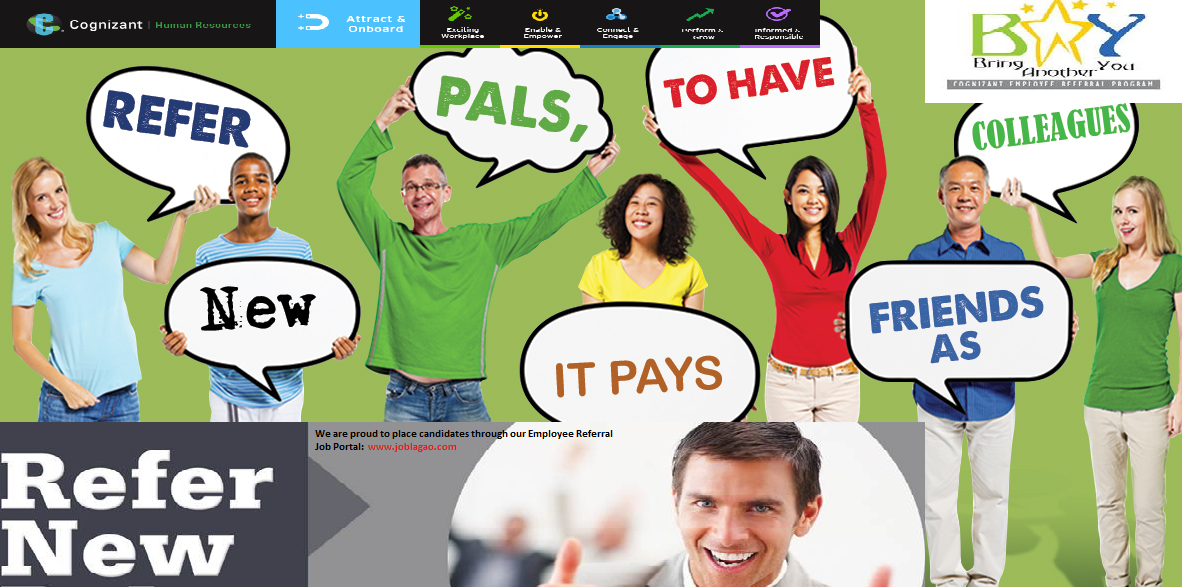 Every week, Cognizant shares the job id.
The referral portal is quite simple, you can send an email to an employee of CTS (or send it to us on joblagao@gmail.com, hr.joblagao@gmail.com ). The employee can refer you against the job id. The link is search able on the Employee Referral Job Portal: Cognizant GlobalReferral .
Take a peek at Cognizant's payslip and Salary structure
On the right hand side, the employee can see Refer a Friend. The referral process is quite simple. The employee can enter the basic details of the candidate. Only Email address, First name and last name is mandatory. This makes the process very simple. The employee does not need to key in all the details. If he or she uploads the resume, then the employee as well as the candidate receives the automated email:
From: Cognizant Talent Acquisition Group [mailto:TalentAcquisitionGroup@cognizant.com]
Sent: Monday, December 26, 2013 1:01 AM
To: Singh, Rakesh (Cognizant); Singh, Rakesh (Cognizant)
Subject: Thank you for your referral to Cognizant
Hi JobLagao:
Thank you for referring hr@joblagao.com to our company. His/her file is being reviewed.
However, if the referred candidate already exists in our database under a different credentials, the referral bonus may not be applicable.
For more information on our referral program, please contact local Talent Acquisition Group.
Thank you for using our employee referral program and request you to refer more candidates to us.
Best Regards,
Cognizant Global Talent Acquisition Group
The candidate should access www.joblagao.com to see the latest walk-in and appear there.
For latest Employee Referral Jobs update Get connect with:
Facebook: https://www.facebook.com/joblagaao
LinkedIn: https://www.linkedin.com/company/job-lagao
Note that most of the time the walk-in time will be 9:00 a.m. If you go Cognizant, Bagmane Tech Park, you will need to stand in a queue for a long time. The gate opens at the stipulated time, and you go on different floors for different skill set.
Read: JDA i2 ABPP Interview Questions
In Manyata Tech Park (MBP), you will be asked to sit in the lobby and wait for further information from the HR For BPO, Process Associate job, there will be 2 rounds of interview and offer will be rolled out on the same day For most of the technical skill set like java, dot net, PL/SQL, there will be 2 rounds. The first round will be basic technical round. The second round will be in more detail. They may ask you the approach for coding or ask you to write a logic or code snippet on paper.
Read: Salary and change in Notice Period, Appraisal in Accenture
For niche area like JDA,SAP, Red Prairie etc. the first round will be technical round where they will ask you questions specific to your skill set considered for. If you clear the first round, you will be asked to wait for Managerial round. if you are not selected, you will be asked to leave" You may have an additional director round. If you clear all the rounds, you will be asked to fill up a candidate information form. Fill all the details accurately like current CTC, expected CTC etc. Don't forget to mention the employee id of the referrer. If the director is not available, then another face to face round will happen in the current week.
For Salary in CTS, See: http://www.joblagao.com/voice/salary/salary-and-payslip-structure-in-cognizant-cts-2.aspx