We recently published few samples of last day email which an employee can send in their office. We received good response from our followers asking to send a sample email template for a senior person for Last working day email subject line.
Read: IT Company Holiday & HR Articles
The previous article was published here
http://www.joblagao.com/voice/hr-articles/last-day-email-in-office-format-adieu.aspx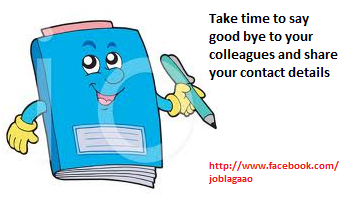 Related Article: Bidding Adieu Mails to Colleagues
The above templates are suitable for individual contributors who are leaving their job experience of 8-10 years. However if you are an entrepreneur or you have built a huge team/practice in an organization, then this detailed mail will be better. This can be sent when you have floated a large venture, which is acquired and you are planning to move on to seek other venture. See the sample below and feel free to copy and customize to your need
Read More: HR Article

Subject Line - Last Working Day Email

Dear associates,

As I bid adieu, I would like to thank you each of you for the support you have lent us over the last 5 years.
XYZ nurtured humble beginnings in 2009, with a small team and big ideas. As the days progressed, the team grew, as did the vision and scope of the venture. Today, I stand proud to have been part of the lives of you guys. You shared your thoughts with me, gave me critical feedback, encouraged and participated in the initiatives conducted under the XYZ banner, and more importantly used the platform to address your needs.
As a team, working on XYZ has been a wonderful opportunity – an opportunity to work with you and with various brands. The bonus was that I also got to make some friends and found well-wishers who helped guide and shape the program. But that was not all. It was an occasion for many of us to venture into newer territories, challenge ourselves, fail a little, succeed much and eventually broaden our horizons. It has been nothing short of a series of exciting learning; one that I will cherish for a while.
At this juncture, I would like to thank all the internal groups – Product Management, QA, Support, HR, Procurement, Admin, IT Support , Corporate Communication, Finance, Legal and the several hundred well-wishers for their overwhelming support and feedback.
While I say good-bye to you through this last day email, I am also quite excited with the possibility that lies ahead of us!

Keep in touch
Connect with us on:
FACEBOOK : http://www.facebook.com/job.lagao
LINKEDIN: https://www.linkedin.com/company/job-lagao
PS: Please like our FACEBOOK PAGE http://www.facebook.com/joblagaao