Cognizant Technology Solutions (CTS) is an American information technology, consulting and business process outsourcing company, having multiple branches across the world. With 1.5 lakh plus employees worldwide, it could be a good starting point for freshers. All freshers want a good salary, increment, work culture, friendly management and top notch career growth and job security. CTS offers all these key points.
It is offering a package of 2.1 lakh per annum to IS support profile.
You can get a job in CTS through Amcat test
For Technology Fresher (Java, DBMS etc.) It is offering 3.3 lakh per annum to ELT (Entree level talent
CBC (Cognizant Business Consulting) is offering a package of 4.2 lakh per annum in B-Schools.
For Healthcare and BPO the Offering ranges from 2 lakh to 5 lakh, depending on the experience.
If you are a lateral hire, you will get around 20% increment on your current salary.
It is hiring aggressively in India especially in South India (Chennai, Bangalore and Coimbatore). In Mumbai they are hiring healthcare professionals for BPO. We will talk about the salary structure and payslip in the following points
Read: Holiday List 2015 of Cognizant, India
Salary Structure
See a sample scanned copy of pay slip shared by SSE in February 2014.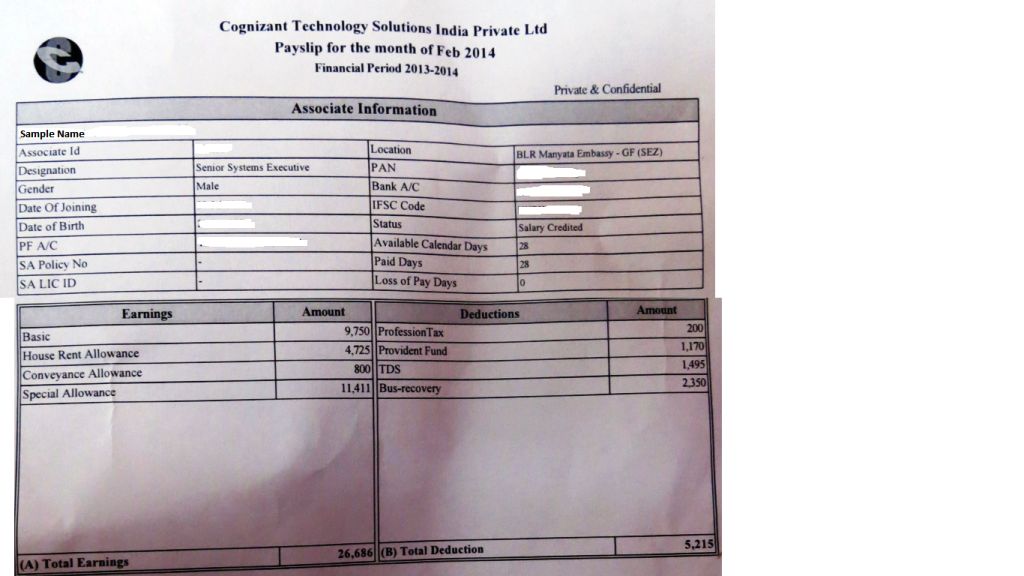 Your offer letter will have the following components
1. Basic
2. House Rent Allowance
3 .Special Allowance
4. Medical Allowance
5. Company's contribution to PF
6 .Incentive(Per Annum) – This is the bonus which is paid half yearly in 2 installments. This is normally paid more than 100% of your eligibility
Salary and Appraisal: As rightly mentioned ""Appraisal process, like any other IT company, can at times be little off mark."
Most of IT Employee are facing this issues, If you start with average salary, after that you expect some good appraisal in return of your hard work. However the appraisal may not be promising. It would be given in single digit. The bonus amount is good as they are given more than 100% and in every quarter, you will be seeing the news that they are distributing luxury cars to their senior management
Read: HR Article
Quality of Work: In CTS Most of the work is production support projects. Hence the chances of getting into a development project is very less . However this comes with a job security. Chances of getting fired from Cognizant is very less. It has real good onsite opportunities and the company is keen in processing your H1 visa.
Promotion: CTS have very slow growth rate. Many review as per online research notify that it's a good place to work but low salary expectation and slow on promotion.
Joining Bonus: For niche skill set and early joiners, a joining bonus is paid in the range of 25,000 to 50,000
The joining bonus will be paid subject to the conditions given below,
1. Your joining Cognizant by a specified date
2. Your successful completion of 3 months of service with Cognizant.
Kindly note the points below,
1. The joining bonus will be subject to statutory and income tax deductions as applicable.
2. The joining bonus will be recovered in case you leave CTS within one year of joining.