Novell is a product company with Specialization in Networking and File sharing system. If you want to pursue your career as a core technical staff, Novell is a great place to begin with. Nestled in a serene green environment in Bagmane tech park in Bangalore, Novell showcases a great environment to work where fresh ideas would flourish.
- It Normally hires from Colleges and offers 6 lakh per annum to Freshers
- It pays very well to lateral hires. You can expect a Salary 3 times the years of your experience. For example, if you have 3 years of experience, you can expect nine lakh per annum. It also encourages good technical people from Services company. Lot of people have moved from Accenture and Wipro to Novell.
- Apart from regular salary, you can get good incentive if you work on innovative ideas and build IP (Intellectual Property for Novell)
- You can also get a change to register your name for any technical patent which you have done for your team
- The work-life balanace is good.
* Some resources complained of internal politics when it comes to patents. The resource from India worked day and night but the US team received the credit
* Overall a good company to work for. The experience would count at large
See the sample offer letter from Novell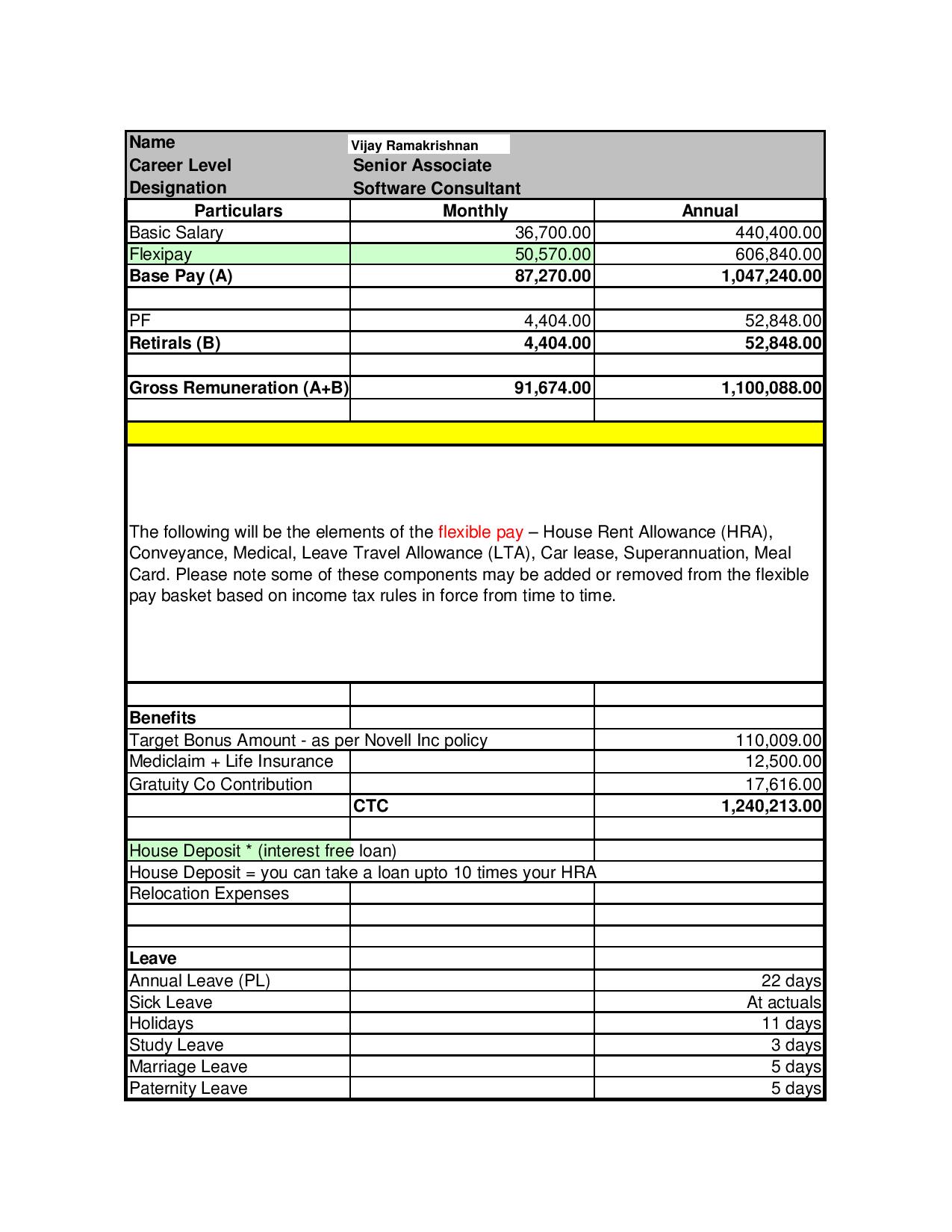 Read: Salary and Payslip structure in Cognizant (CTS)
- The package of approx. 12.5 was given to an experienced candidate with 4 years of experience.
- Bonus is paid in full. There will not be any deduction in the name of variable pay
- It gives interest free loan towards deposit for rent (In Bangalore, the deposit for rent is 10 times the monthly rental), so if you rent an apartment for 10K, you should be prepared to give a deposit of 1 lakh
- Once you gain some experience in Novell, you will be easily hired by Citrix, Juniper and Amazon
You can download the offer letter pdf from here Offer Letter
Read: Salary and change in Notice Period, Appraisal in Accenture