Accenture which brands itself as " High Performance Delivered", is now portraying as "Change in Policy. Delivered", like a chameleon. Well, there is nothing wrong in changing policies but it hurts when it changes policy after giving the offer letter or after joining.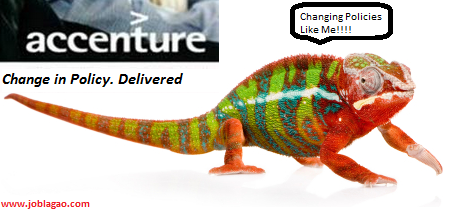 In India it had a better name than the desi companies like Infosys, TCS etc. But now days it is becoming more or less like a desi company rather than an MNC. Analysts say that it is unable to handle the aggressive growth in numbers. Earlier It was an employee friendly and policy friendly but now they are trying desperate measures to manage their profit number. In the Europe, it is certainly the number one consulting company. In the US, it faces tough competition with companies like Deloitte and Mc Kinsey.It is no more "THE" most sought after company in college campuses in the US.
Read: Salary and Payslip structure in Cognizant (CTS)
Take a look at their recent change in policies
1) Last year they changed the variable component by 2-3 % across different levels. The people who joined Accenture In the first half of 2013 were surprised by the fact, that their salary reduced around September 2013. On contacting the HR, she said "Anyways you will be getting only 50% of your variable during the first year, so why are you worrying." Crap!
2) Their appraisal process has changed from September to December in 2014. So if you were not promoted in September 2013, there are chances that you will be stuck up at the same level till the end of 2014. Some lucky ones were promoted in the midterm appraisal in January 2014. On a lighter note, the Rock band of Accenture is practicing the song "SSE till I die!!"
3) There are rumors that notice period will change from 3 months to 4 months. So, if you are planning to quit, first resign and then quit. In a survey with an Accenture employee, he jokingly said "Even the bride may not wait for 4 months after the engagement. How can you expect the prospective company to wait?"
Note: The notice period has not changed but may be changed to 4 months.
4) The HR made Face to Face interview or video conference compulsory in 2013. So if you are at a location where Accenture is not having an office, then you will have to travel to a nearby metro. We have received reports that the HR are not prompt and professional to schedule on time. And the funny thing is that you will be called for a video conference in Accenture's office and then the HR will conference you telephonically with the hiring manager. "What an IDEA, Sir Jee", muses a job seeker
5) Beware of the CATCH in Variable Pay. They will mention about earning potential . The following text will be mentioned in your offer letter "Your variable pay earning potential based on individual performance at your career level as part of the FY14 Local Variable Pay (LVP) program can range from 0% to 18% of your FY14 annual fixed compensation. Your LVP is linked to your most recent performance rating and Company's performance. In addition to these two components your LVP is also linked to your Individual Utilization. The LVP will be paid out subject to you being on the rolls of the company on the date of disbursement of these payouts and will be prorated based on your tenure in the company during the year. The Company may, at any time and in its sole and absolute discretion, amend, suspend, vary and modify any of the terms and conditions of the Local Variable Pay guidelines. Your annual total earning potential, including annual fixed compensation and the LVP earning potential for FY14 can range from Rs. 9,54,000 to Rs. 11,25,720.
See the sample calculation if Variable Pay. In the above example :
-Fixed component = 9,54,000.
-18% of 9,54,000 = 1,71,720.
-Maximum Package is (Sum of the above)= 11,25,720
-However in the first year, they will give you the default rating and the percentage will be 9%. So,
-Actual Package in the first year= 10,39,860
-So on papers, you may be happy that you have got a package of 11.25 lakhs but your actual package will be 10.39
Read: Accenture India Holiday List 2015
Note: Variable can be further reduced due to the following reasons
-In variable is directly proportional to billability. If you are on bench for some time, and the utilization drops, then your variable will be reduced
-Some projects or group allow you to charge only 95% of your time. So variable will be reduced by 5% if you are in such a group.
-If you quit Accenture, then you will not get variable if you are not on the payroll of the company on the last working day, so the payout is lost depending upon your LWD (Last Working Day)
Take a peek at Salary in Accenture
http://www.joblagao.com/blog/index.php/2012/09/04/salary-in-accenture/
Note: Even after giving the offer, Accenture can change the policy by sending an addendum. Well, if you have resigned from your company and serving notice period, then you will have no other option other than to accept this addendum. You may receive a sample addendum if the policy changes
Addendum – Terms of Employment
We would like to inform you that the Terms of Employment that was annexed with the offer letter
has been modified and would be effective May 1, 2014. This is an addendum to the Terms
of Employment.
Read: Offer Letter Salary and Payslip of Hewlett Packard
Following clauses will override the clauses in the Terms of Employment that was annexed with the offer letter:
1. Clause 1.4 - Notwithstanding anything contained herein, during your probation period,
Company may terminate your employment upon One Hundred and Twenty (120) calendar days notice to you or by paying your monthly gross salary in lieu of giving such notice, with or without cause,
and with or without stating any reasons whatsoever.
2. Clause 1.5 - If you desire to terminate your employment during the probation period, you
shall provide Company One Hundred and Twenty (120) calendar days prior written notice with reasons for such termination.
3. Clause 9.1 - Your employment shall terminate immediately:
(b) Upon Company giving you One Hundred and Twenty (120) calendar days notice of termination for any
reason, with or without cause; Company may, in its sole discretion, terminate your employment immediately by paying your monthly gross salary in lieu of giving you such notice; and/or
4. Clause 9.3 - You may at any time terminate your employment by giving the Company
One Hundred and Twenty (120) calendar days prior written notice
For regular Employee referral job updates in Indian IT companies, connect with us on

FACEBOOK : https://www.facebook.com/joblagaao
LINKEDIN: http://in.linkedin.com/pub/job-lagao/43/518/b92
Please like our FACEBOOK PAGE http://www.facebook.com/joblagaao