This salary review of Hewlett Packard (HP) is relevant for the office in Bangalore. HP is a good company to work for. It still has cool MNC culture. Within HP, you have the option of working in various domains. If you want to try your hands on the core technical stuff, you can work for HP Labs, which has an office in Mahadevpura, near KR Puram. You have an opportunity of good quality C++ work in the storage domain.

You have the option of working for IT services and support through HP Globalsoft Pvt. Ltd.
Read: JDA i2 Payslip and Salary structure

If you have a passion for Analytics you can be a part of HP in Bagmane Tech Park where you can use your statistical insights for internal analytics engagement.

See a sample Salary slip: Salary in HP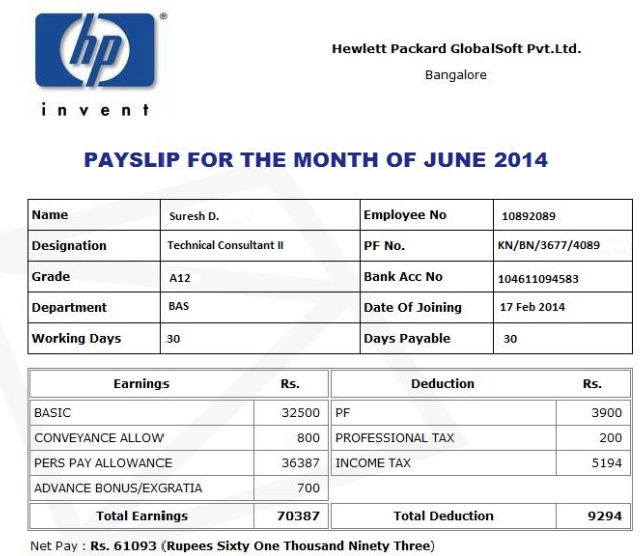 The Hewlett-Packard Salaries range is in the ascending range of departments given below:
IT Support /Backend/ BPO/ Process Associates: They are paid basic nominal salary in the range of 2 lakh per annum. However they have shift allowance and other perks like free food, cab service etc.

IT Services (Software Engineer, Associate Engineer, ): They have a huge base in Chennai and the starting range is approximately 3 lakh per annum. In Bangalore, most of the folks work out of HP's sprawling campus in Electronic city. This department has good chance of onsite.

Analytics: They prefer to hire MBA with the starting salary of 4 lakh per annum

Development (HP labs): They hire techies from Premier B. Tech colleges. Over here the starting range is 4.5 lakh per annum. Test Engineers are also paid at par with the developers
Take a peek at Cognizant's payslip and Salary structure

The above is the starting salary. Mostly the rule of thumb is (2 * Number of years of exp). So someone with 4 years of experience can expect a package of around 8 lakh. The best thing about HP's salary is that the structure is flat. You get some bonus as well.
Related Article: Salary and change in Notice Period, Appraisal in Accenture

The salary varies from department to department. So, a person with 5 years of experience may be earning 10 lakh of salary in the global analytics team. A QA engineer working on automated testing might be fetching around 9 lakh per annum with 3 years of experience. You can move from one department to another only after completing 18 months at HP. For this you need to have good connection with your managers as they will be the initiator and approver.

See a sample Offer letter and benefits from HP: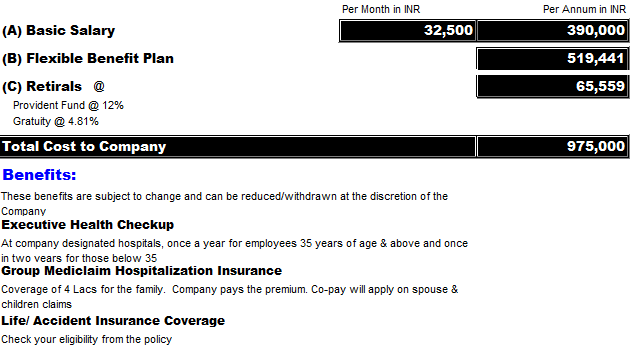 Apart from the benefits listed above HP shuts down for around 10 days from the23rd of December to the 3rd of January. They call it FURLOUGH. It is mandatory for every employee to file 10 days of leave as the company literally shuts down. It gives you a good chance to take holiday and rejuvenate.
Check Out Latest Employee Referral Jobs in HP (Hewlett-Packard)
Get Social, Connect With Us: JobLagao on Facebook | JobLagao on LinkedIN |JobLagao on Twitter