You can download the sample salary slip from of Accenture.
Accenture Salary Slip

Note that personal data like name, Account number has been changed.
Read: JDA i2 Payslip and Salary structure

For an existing employee of Accenture, Salary slip can be downloaded from Allsec website https://smartpay.allsectech.com/accenturelogin/

Note that your login id is "ACC" prefixed to your employee id. For example if your employee id is 11225948, you login id will be ACC11225948
Read: Accenture India Holiday List 2015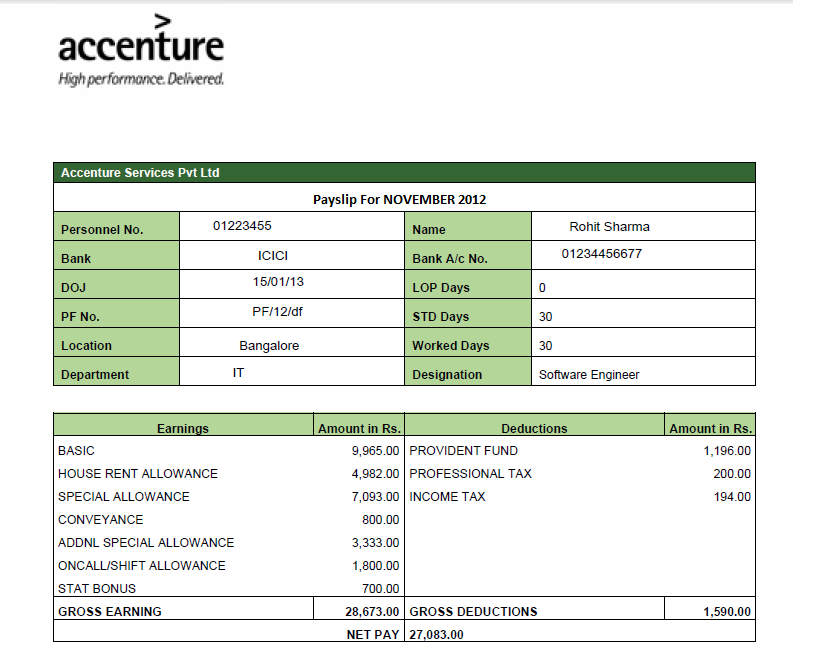 In Accenture,you have the flexibility to change your package. You can decide your own basic. However, there is a limit to that. You cannot have more than 45% of your package to be assigned to basic. There is a lower limit as well.
Read: Accenture careers and interview through Employee Referral

If you want to save money for the future through PF, this is a good option because the company's company is over and above your package. Note that some companies show the employer's contribution in your package and deduct it from your payslip, so ideally you have 2 deductions from your payslip, one is your contribution and another one is company's contribution. The GOOD thing about Accenture's package is that the employer's contribution is on top of that. So, if you decide high amount of Basic, the company's contribution also increases :-)
Take a peek at Cognizant's payslip and Salary structure

You can define the reimbursement section. For HRA, the calculation will be as given below:

so you can adjust HRA, by changing your basic. It is recommended to keep the HRA as the actual amount paid or the amount eligible for exemption (See above)

You will also be given shift allowance, if you are working in Shifts.
These articles will interest you
Has the notice period and variable pay percentage changed in Accenture?
http://www.joblagao.com/voice/salary/salary-and-change-in-notice-period-appraisal-in-accenture.aspx
Salary in Accenture: http://www.joblagao.com/blog/index.php/2012/09/04/salary-in-accenture/