JDA Software is the leader in Supply Chain Product Company. The company has grown by acquisition, but has carefully incorporated the essence of all the companies it acquired, so it is still one of the best companies to work for. Now let me directly talk about the Salary. Well, it varies drastically from one role to another. Let me take a step back and talk about the salary given by i2 Technologies (which was acquired by JDA in 2009):
• For Freshers (B.Tech and MCA, it used to give approx 3.5 lakh per annum in the year 2003-2006)
• M.Tech and other post graduates were drawing a salary of 4 lakh per annum
• It also had employee stock option which was later discontinued in 2007, but some amount was added in the salary using Black Scholes Equation.
• The employee used to get hike in the range of 10% to 20% . For consultants, the variable was dependent on billability but most of the folks used to get complete variable pay.
• During the leadership of Michael McGrath the company distributed approx 1000 dollars to every employee in 2005
• During the leadership of Dr. Pallab-Chatterjee, the company made good profit and was listed back in NASDAQ as ITWO. Good hike and bonus was given to the employees in that era. Finally the company was acquired by JDA in 2009
Latest: JDA i2 DM Employee Referral Job in Cognizant, Bangalore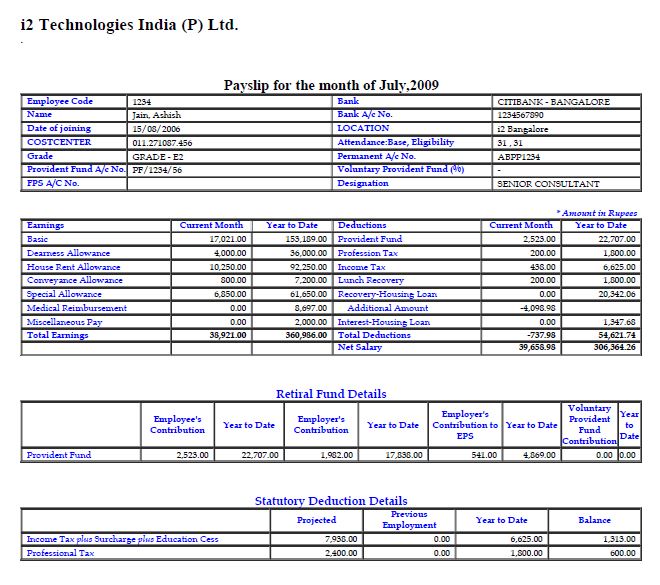 Click here to download the i2 Payslip
Click here to download a sample salary payslip HTML Code, which you can modify to use in your company Sample Salary HTML
Read: JDA i2 ABPP Interview Questions
During the acquisition timeframe and recession, the salary was frozen and the company was going through tough times, but later on the salary was normalized and JDA is still one of the good paying employee:
• The product team members are highly paid as they are the core of complex and innovative supply chain products. An experienced candidate with 4 years of experience can demand 12 lakh per annum
• A business consultant with 3 years of experience can fetch around 9 lakh per annum. Sometimes they are paid slightly less but they can make good money if they travel to client location.
• Managed Services COE also pays very well especially if you have prior experience of working on i2 products and if you can support ongoing projects. With 9 years of experience, the candidate may get 19 lakh per annum
• The IT infrastructure ,HR, admin and facilities are also paid well
• The company has good onsite policy. You will be given accommodation in good chain of hotels like Marriot. The per diem is $50 per day but your savings on per diem will be taxable if you do not produce receipts. You can also rent a car in the US.
Take a peek at Cognizant's payslip and Salary structure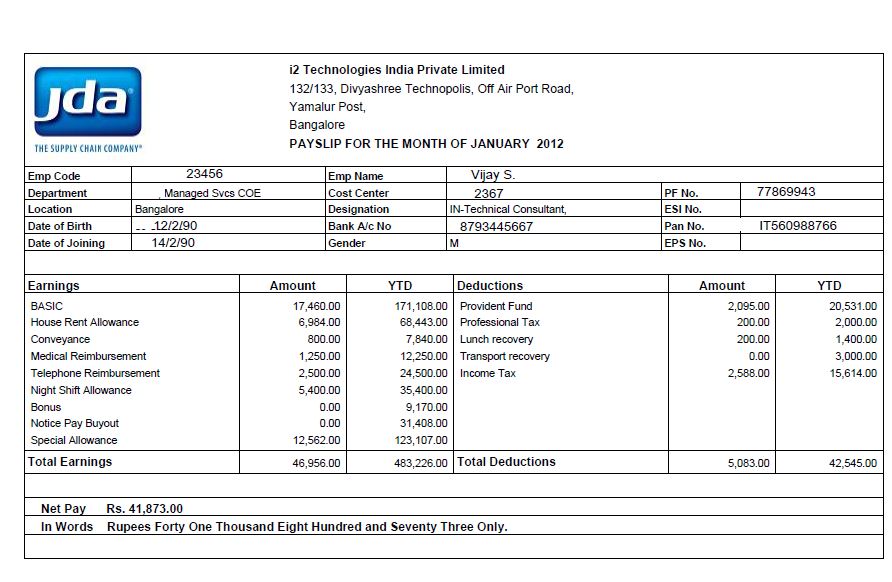 You can download JDA Software Pay sample pdf from here JDA Salary Payslip
Read: Offer Letter Salary and Payslip of Hewlett Packard
Note Confidential information has been removed from the above. You can see that JDA has the standard components:
• Basic, HRA can be modified to suit a person's need
• They also have Night Shift Allowance is Rs. 300 per night. It may vary depending upon the project
• It has a lunch recovery token amount of Rs. 200. So, lunch is almost free!! If you travel for a long term onsite on India payroll, you may ask finance to stop deducting this amount.
• You can also take loan from JDA for Marriage, housing loan or for paying advance amount for rental accommodation. Check with finance on the interest charged. It is either free or charged at a nominal 2% p.a. It will be deducted from your payroll every month.
Related Article: Salary and change in Notice Period, Appraisal in Accenture
Overall JDA is a good company to work for salary as well as experience. Even if you get average salary initially, you will get better hike in the coming years. The best part is that your market value will increase even if you spend 2 years in JDA. After that the services company will hire and give good increment once they have a project.
"If you are about to get an offer from JDA or any services company for JDA skill set, then you can post a comment here. We will guide you on the ongoing salary band."
Mark your calendar for the biggest Supply Chain event of the year JDA Focus This year, Focus is scheduled between April 26th to 29th in Orlando, Florida, USA.
For Jobs in JDA, please visit: http://www.joblagao.com/jobs/companies/jda
Get Social, Connect With Us: JobLagao on Facebook | JobLagao on LinkedIN |JobLagao on Twitter