Documents Required Before Joining Accenture
Prior to joining Accenture, the HR will ask you for the following documents the Softcopy of completely filled EAF to take your candidature forward. Earlier they used to ask the documents by email but nowdays they ask you to upload it in a shared link. They will ask to send the mails in JPEG or BMP or Word 2003 format, not in RAR or Word 2007.
In the email, Please mention which documents you have attached in the mail, mentioning the highest qualification, company name, and nature of the document such as relieving letter, payslip etc.
Read: Salary and Payslip of Accenture
NOTE: When you send us EAF make sure you write back a mail stating that you are ok with the background check conducted by Accenture. The text to be mentioned in your reply is mentioned below .
"I agree to the letter of authorization in the EAF and I understand that Accenture will initiate pre-joining Back Ground check based on the details provided. I agree to the background check being done."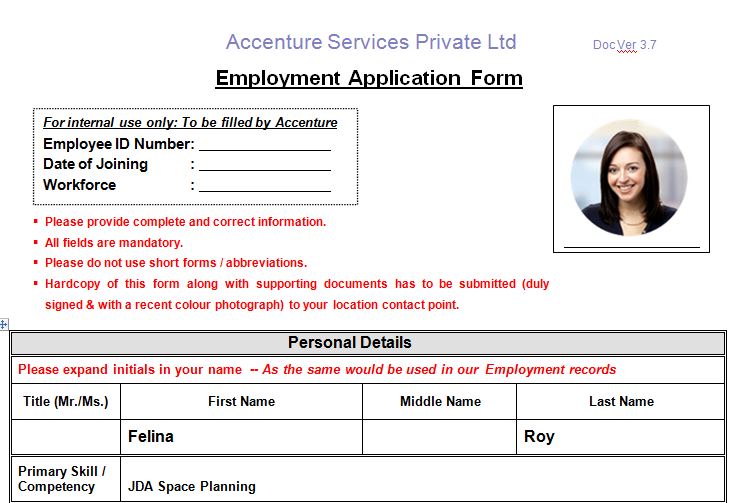 Required Documents:
Please Scan, Zip and send the complete set together. Post receiving the same they would be able to take your candidature forward.
List of Mandatory Documents

Identity Proof:

1. Pan Card- MANDATORY/ Scanned Passport size Photograph

If Pan Card not Available please provide- Proof of application of Pan Card along with the copy of Passport

Education Documents:

1. Degree Certificate & Copy of consolidated mark sheet for your highest qualification

2. Provision Certificate & Copies of all year/ term/ semester mark sheets for highest qualification (if provisional degree certificate is being submitted instead of the Degree Certificate)

All Previous Organizations Documents:

1. Relieving Letter or Full and Final Settlement or Service Certificate or Offer Letter or Payslip which has -
Employee Id / Designation-Mandatory, (If Employee Id is not available please mention the same in the mail sent with all the Documents).

Current Organization Documents:

1. Offer Letter-MANDATORY

2. Revision Letter and Salary Break Up Sheet- MANDATORY

3. Latest Pay Slip- MANDATORY
Read: Salary and change in Notice Period, Appraisal in Accenture
You can download the Employee Application Form (EAF) from here Revised_Employment_Application_Form_Ver3.7.doc


About the Author: